All job sites are definitely not created equal; some are much more effective than others. The information on these sites can help you find out who is hiring, what those companies are looking for and what their work environments are like. But they are just the beginning of the job search process. When you have a list of places and positions you're interested in, the real fun begins! More on that in a bit.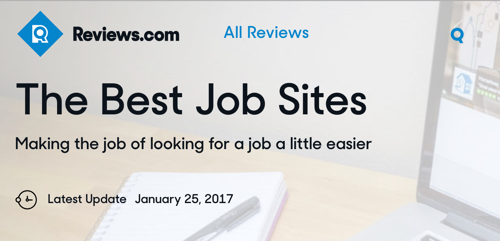 First, let's take a look at a summary of a Reviews.com article that lists the best websites for job seekers. Then we'll discuss what to do once you've found the jobs that interest you. Reviews.com is an independent research company that spent six weeks evaluating job sites to determine which ones are most effective for a productive job search. A summary follows; their free, in-depth review can be found here. And thanks to the folks at Reviews.com for sharing this information.
Job Site Reviews
Glassdoor
With an average of 22 new posts per day, Glassdoor is by far the most active website for job seekers. However, Glassdoor is much more than a recruitment website; it allows companies to establish profiles containing detailed information about salaries as well as reviews from past and current employees.
Users don't need to create an account to search for jobs, but the benefits of signing up are well worth a few seconds of your time. Many employer profiles contain a "Why Work for Us?" section, which lets companies upload photos and videos that showcase their work environment. Glassdoor also has a handy mobile app containing all of the same features found on the website.
Indeed
Sometimes less is more, which is the philosophy behind Indeed's bare-bones approach to job hunting. The website is simply a search engine for jobs, but it is the most comprehensive of its kind. Indeed is second only to Glassdoor in terms of frequency of postings. Employers appreciate Indeed because posting jobs doesn't cost anything.
One advantage Indeed offers that Glassdoor doesn't is a wealth of search filters. You can sort through opportunities based on industry, salary, experience requirements, and more. Indeed also features a salary calculator that uses data collected from previous employees. This can be extremely helpful when it comes to negotiating a salary.
LinkedIn
While LinkedIn isn't known for having an abundance of job postings, the professional networking website is where most recruiters now look to find qualified candidates. A 2015 survey found that more than half of employers use social media profiles as part of their screening process, which is why you should be careful about what you post online.
Don't think of your LinkedIn profile as an online resume; customize it to sell yourself as a professional. Participate in discussion forums and take advantage of the messaging feature to make contacts who might eventually help you get your foot in the door.
Honorable Mentions
In addition to recommending niche job sites for individual industries, Reviews.com found the following services to be helpful for some job seekers.
JobisJob: For those looking for jobs all around the globe, JobisJob features a geographic hot spot tool that identifies regions where job markets are thriving.
Dice: For those looking for STEM jobs, specifically in the industries of technology, financial services, and health care.
MediaBistro: Useful for freelancer writers and other professionals looking for work in journalism, advertising, marketing, or PR.
Snagajob: Useful for individuals seeking part-time work and hourly jobs.
Next, the Real Fun Begins: Using Rapid Relationship and Trust Building to Land the Job You Want
Submitting applications through job sites is a great way to start. But if that's all you do, you may as well be tossing your resume into the void. Studies have revealed that most employers spend only a few seconds looking at resumes when they have hundreds of applicants before them. Submitting your application and just waiting to hear back is a recipe for failure. "For every one person hired through an online job application program, 12 are hired by an internal referral," claims Steve Dalton, program director for Daytime Career Services at Duke University's Fuqua School of Business. He adds, "The literal information you find in online job postings is not that helpful, but the information that the postings suggest is very helpful."
The best approach for maximizing your job search is to begin with job sites and then move into what I call rapid relationship and trust building to gain traction in the field you target. In my book Job Quest: How to Become the Insider Who Gets Hired, I spell out how to create the connections that give you a tremendous advantage when it comes to landing jobs. I explain how to create personal relationships with those known and trusted by the workplace, and how that can open the doors.
In my book, I break the process down into a series of concrete, easy-to-follow steps using a game approach and an analogy to a medieval quest to help you understand what to look for and how to move forward in your search. I explain what luck has to do with it (and how to create your own), how to prepare for the quest, how to get around the resume-blocking gatekeepers (the dragons who guard the hiring managers), how to find key people to connect with (your knights and wizards), what to say once you connect with them, how to continue building your connections, how to interview, when to start using the word "job," when to go for the close, and how to give back to your connections.
Feel free to read more about this process here, and read an excerpt of the first chapter, The Insider Advantage, here.