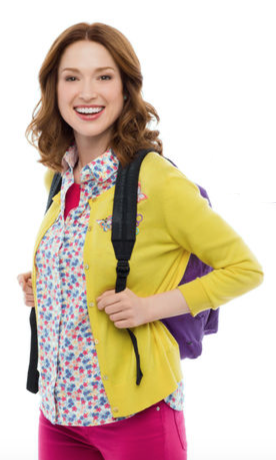 If you haven't yet discovered the thirteen part Netflix comedy series, Unbreakable Kimmy Schmidt, you're in for a treat. The binge-worthy series, developed and produced by Tina Fey, has a premise that is a perfect setup for the main character, Kimmy, to be a present-day naïve learning about our nutty culture after being away from it for many years.
Kimmy is one of four so called "mole" women who were kidnapped and held hostage in an underground bunker by a self-described religious fanatic who claims to believe the end of the world is near. He pretends his intention was altruistic, namely, to save these women from the Apocalypse by keeping them safe in the bunker, but we know better. The series begins when they are found and released back into the world by the authorities who have finally located the secret bunker.
Kimmy, who is now free to do whatever she wants in life, decides to live in Manhattan and promptly runs into difficult situations which are at once revealing and hilarious. We get to see the world and our culture through her eyes. Her experiences reveal some dark truths about our current culture: drug addiction, poverty, a messed up immigration system that forces people to marry to avoid deportation, self-indulgent rich women, smart kids who pretend to be stupid so that they can be popular, and much more. Because of Kimmy's approach to life, she not only survives but does well no matter what life throws at her. We get to laugh at the crazy world we have become inured to, but a world that is new to her. Kimmy, ever resilient, is the perfect foil.
This show has grown on me. At first I felt it was too cartoonish. But now I am a fan. And part of the interest for me is seeing how Kimmy translates the bad stuff that happens to her and others in her immediate world into good stuff as she makes her way in life.
I am interested in that ability to find treasure in the trash because that's what most people have plenty of chances to do in life. People who are really lucky in life aren't winning the Lottery, instead they're good at powering through when bad things happen to them. And bad things happen to everyone. I just lost my sister, who was also my close friend, to ALS, and it has been a very tough loss to deal with. I am still looking for the treasure in that trash.
So what does Kimmy Schmidt have to teach us about being unbreakable? The short answer is that she has a great mindset that helps her to navigate rough waters. Her attitudes are wonderful. First, she is out and about, open and engaging. She is willing to have adventures and connect with people in an authentic way. As a result she is making good friends who love and support her and whom she loves and supports in return. Second, she is observant. She sees what's going on and isn't self-absorbed, so she is able to learn. The snarky teenage daughter who lives in the house where she babysits starts out by making fun of her, but Kimmy gets good at retaliating with some delightful verbal barbs that put the girl in her place and gain Kimmy respect. By the end of the series it seems possible that they might become good friends. Third, Kimmy is able to be diligent. She can do what needs to be done. She doesn't give up when things are tough. Kimmy gives good advice to the self-centered rich woman she works for who is falling apart because her husband is cheating on her. When things got bad in the bunker, Kimmy tells her, I would "Count to ten… And then I would count to ten again." Mundane tasks are part of many jobs: document review, data entry, flipping burgers. Sometimes our work lives and personal lives call on us to be patient and put one foot in front of the other. Like Mr. Miyagi said in Karate Kid, "Wax on, wax off."
What does this have to do with your career? Attitudes matter. I write about that in Job Quest. Getting lucky in your job search and even doing well on the job once you land it has a lot to do with your mindset. Being open and engaged with people will help you to create a community within your industry that supports you and that you support. This is very valuable for a productive job search and for a successful work-life in most industries. Being observant can help you to succeed. As you work your way to a job opportunity by meeting with people in person, it helps if you can be acutely observant and aware of your surroundings and the people you are interacting with rather than self-absorbed. And having patience and diligence are valuable assets as well because the process of job search and working most jobs will have elements and tasks that require the ability to hang in there even when you wish you didn't have to.
Unbreakable Kimmy Schmidt is not the least bit preachy. But humor is the best teacher of all. I hope you will try watching this series when you are looking for something fun to do.